Upcoming Events:
Watch your newsletter, email us, or contact a branch leader here
First regular meeting September 13, 2018 in classroom 281 of Brazos Hall on the WCJC Sugar Land campus, 14004 University Blvd, Sugar Land, TX 77479. GOOGLE MAPS LINK. BRAZOS HALL MAP.
Meet at 6:30pm for socializing and snacks. Program begins at 7:00pm. This month's program will be ColdCase Historian: The Murderous Tale of the Rancher and the Rodeo Trick Rider–a true story about an event that happened in our area several years ago–presented by Diane Ware. All members and guests invited. See MORE EVENTS…
2018 Installation and Awards Luncheon
Congratulations to our 2018-2019 branch officers who were installed at our May 7, 2018 Installation and Awards Luncheon. Thanks for stepping up!
Congratulations also go to Shanna Bryson, Science Instructional Coach at Lamar CISD, our Educator of the Year! Her work planning and executing a STEAM camp for Junior High girls is a wonderful effort to encourage girls' engagement in Science, Technology, Engineering, and Math.

2018 AAUW National Bylaws Amendment Vote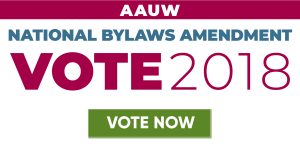 The AAUW National Board of Directors has voted to put three proposals for bylaws amendments before the membership for a vote this spring. In the voter guide you'll read about proposed bylaws amendments that the AAUW Board of Directors strongly supports. We believe that passing these measures will help keep AAUW vital as an organization and enable us to increase our impact in advancing equity for all women and girls
Read More
Voter's Guide
Bylaws Vote FAQ

Brookwood Poinsettias
At the end of last year our branch bought over 100 poinsettias from Brookwood–an educational, residential, and entrepreneurial community for adults with functional disabilities. We received this wonderful thank you note from one of the Brookwood residents: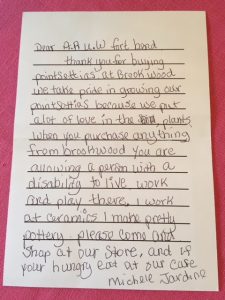 2018 State Convention is in Houston
The AAUW Texas 48th Biennial State Convention will take place April 20-22, 2018.
For more information and the registration form see the Winter 2018 Newsletter. Note that Early Bird registration ends March 23. Regular registration ends April 10.
The gender pay gap is all math, not myth.   Have you ever met a pay gap denier?  AAUW just crunched the numbers on new data from the U.S. Census Bureau and we have the facts you need to arm yourself to fight for fair pay.
Congregate with the Bookies (almost) EVERY Month, 1st Monday evening for a lively discussion more… October was My Own Words by Ruth Bader Ginsberg, especially appropriate on this topic.
---
On a HOT day, take a look at AAUW Texas' HOT blog on FACEBOOK to see what other ACTIVE women and Branches are up to….link HERE and in the right navigation
---
THANKS & Congratulations to our 2017-2018 branch officers,  installed at our Recognition Brunch May 7, 2017 at Tradicao Brazilian Steakhouse
President – Judy Cenkus
Program VP – Mona Fogt
Membership VP – Norma Mitsakis
Finance Officer – Margo Johnson
AAUW Funds VP – Angie McCauley
STEM & Legal Advocacy Fund Officer – Whitney Dewey
STEM Co-Chair & Communications Officer – Nancy Green
continuing thanks to our own Brenda Moss serving as AAUW Texas District Representative for the South District and spearheading efforts of the Local Arrangements Committee for 2018 AAUW Texas Convention right here in Houston, April 2018
Thank you ALL for stepping UP….looking forward to ANOTHER exciting year!

IT'S ALWAYS…time to Give a Grad a Gift of an AAUW membership, any time up to 2 years from baccalaureate or associate degree graduation.  Give the gift of AAUW membership
Previous Events:
 Holiday Party Benefiting Legal Advocacy Fund
The 2017 Holiday Party Silent auction raised $500 for the Legal Advocacy Fund (LAF)! Many thanks to Judy and Mark for hosting.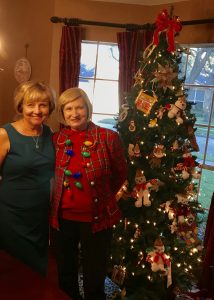 Putting a Stake in the Heart of Pay Inequity Halloween Fundraiser

November Branch Meeting: Female Leadership in Our County's Juvenile Probation Department – Susan Bearden, Special Programs Director, Fort Bend County Juvenile Probation Department gave a heartfelt, moving description of their programs and how volunteer mentors reach out to make a difference in young lives.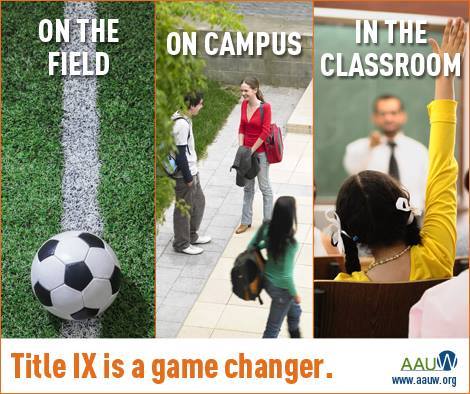 October Branch Meeting:  Title IX – Dr. Richard Anthony Baker, Assistant Vice Chancellor/ Vice President, University of Houston Main Campus…dynamite presentation on Title IX efforts to inform about, reduce, eliminate on campus sexual assault.
Shanna Bryson, the K-8 Science Instructional Coach in Lamar CISD's Department of Curriculum and Instruction. Ms. Bryson is responsible for the design and delivery of the STEAM camp held in June for middle school girls in LCISD [Science Technology Engineering Arts Math]
MANY thanks to Milly for a WONDERFUL Salad Luncheon, Saturday August 19!  We met five vibrant women interested in AAUW's mission and enjoyed a wide variety of salads, as well.

What's left this year? Programs? Books? more…
Fort Bend Branch will continue to sell AAUW business cards as a Branch fundraiser—see our order form and ad
Our Mission: AAUW advances equity for women and girls through advocacy, education, philanthropy, and research.
Our Vision: AAUW empowers all women and girls to reach their highest potential.
Our Value Promise: By joining AAUW, you belong to a community that breaks through educational and economic barriers so that all women and girls have a fair chance.
Our Diversity Statement: AAUW values and seeks a diverse membership. There shall be no barriers to full participation in this organization on the basis of gender, race, creed, age, sexual orientation, national origin, disability, or class.