The American Association of University Women (AAUW) is the nation's leading voice promoting equity and education for women and girls. Since our founding in 1881, AAUW members have examined and taken positions on the fundamental issues of the day — educational, social, economic, and political.
Upcoming Events:
Our next event is a BBQ at the Pickthalls' home on Saturday, April 30. Watch your e-mail for more information.

Check out our Fort Bend AAUW members in the Houston Chronicle
Read Letters to the Editor from our members Jan Yurasek and Jaci Elliott about Educators and COVID in the Houston Chronicle.

Top Ten AAUW Texas Branches in Contributions Per Capita 2020
Our branch was in the Top Ten AAUW Texas branches in contributions to AAUW Funds per capita for 2020! Thank so much for your generosity!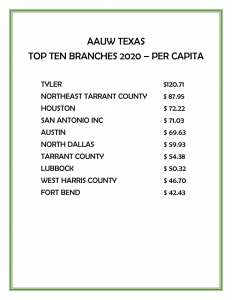 Sign Up for AAUW's Two-Minute Activist Network
Become a Two-Minute Activist by subscribing to the AAUW Action Network. Send emails and texts to your legislators to fight for equal pay, family leave, stopping sexual harassment, equality in education and more. Sign up to get regular alerts to be able to take timely action.

Work Smart Online
AAUW's Work Smart & Start Smart workshops teach how to research your target salary, highlight your accomplishments and find the right words — and the confidence — to negotiate for better benefits and pay. You can take the Work Smart Online course now!

2020 Eleanor Roosevelt High Tea
AAUW Fort Bend held our annual Eleanor Roosevelt event in the form of a high tea to help complete the Tyler Branch AAUW American Fellowship. Thank you to hostess Tracey Meyer and everyone who made donations.

2019 Scholarship Awarded to L.E.A.F.
At our April regular meeting we presented a $2,000 award to Lamar Educational Awards Foundation (L.E.A.F.) in support Lamar CISD's summer S.T.E.A.M. camp for middle school girls. The additional $1,000 gift this year was made possible in part by generous memorial gifts from family and friends of our late member Charlotte Magelssen. She was a more than 50-year member of AAUW and a lifelong supporter of advancing education for young people.
Previous Events:
2018 First Regular Meeting
Thank you to all who attended our first regular meeting of the 2018-2019 year! Also, thank you to our speaker, local historian Diane Ware, for sharing the fascinating story ColdCase Historian: The Murderous Tale of the Rancher and the Rodeo Trick Rider and telling us all about the DeWalt Heritage Center.
Reminder: Midterm elections are fast approaching and AAUW Action Fund voter guides will be released in late September. Be sure to check the policy and candidates guides for candidates positions on AAUW issues. And encourage people in your life to register to vote on Tuesday, September 25, National Voter Registration Day.

2018 Installation and Awards Luncheon
Congratulations to our 2018-2019 branch officers who were installed at our May 7, 2018 Installation and Awards Luncheon. Thanks for stepping up!
Congratulations also go to Shanna Bryson, Science Instructional Coach at Lamar CISD, our Educator of the Year! Her work planning and executing a STEAM camp for Junior High girls is a wonderful effort to encourage girls' engagement in Science, Technology, Engineering, and Math.

2018 AAUW National Bylaws Amendment Vote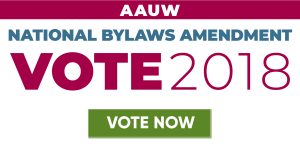 The AAUW National Board of Directors has voted to put three proposals for bylaws amendments before the membership for a vote this spring. In the voter guide you'll read about proposed bylaws amendments that the AAUW Board of Directors strongly supports. We believe that passing these measures will help keep AAUW vital as an organization and enable us to increase our impact in advancing equity for all women and girls
Read More
Voter's Guide
Bylaws Vote FAQ

Brookwood Poinsettias
At the end of last year our branch bought over 100 poinsettias from Brookwood–an educational, residential, and entrepreneurial community for adults with functional disabilities. We received this wonderful thank you note from one of the Brookwood residents: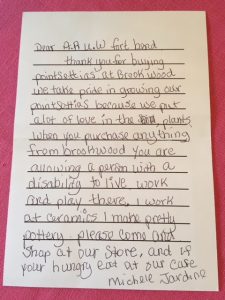 2018 State Convention is in Houston
The AAUW Texas 48th Biennial State Convention will take place April 20-22, 2018.
For more information and the registration form see the Winter 2018 Newsletter. Note that Early Bird registration ends March 23. Regular registration ends April 10.
The gender pay gap is all math, not myth.   Have you ever met a pay gap denier?  AAUW just crunched the numbers on new data from the U.S. Census Bureau and we have the facts you need to arm yourself to fight for fair pay.
Congregate with the Bookies (almost) EVERY Month, 1st Monday evening for a lively discussion more… October was My Own Words by Ruth Bader Ginsberg, especially appropriate on this topic.
---
On a HOT day, take a look at AAUW Texas' HOT blog on FACEBOOK to see what other ACTIVE women and Branches are up to….link HERE and in the right navigation
---
THANKS & Congratulations to our 2017-2018 branch officers,  installed at our Recognition Brunch May 7, 2017 at Tradicao Brazilian Steakhouse
President – Judy Cenkus
Program VP – Mona Fogt
Membership VP – Norma Mitsakis
Finance Officer – Margo Johnson
AAUW Funds VP – Angie McCauley
STEM & Legal Advocacy Fund Officer – Whitney Dewey
STEM Co-Chair & Communications Officer – Nancy Green
continuing thanks to our own Brenda Moss serving as AAUW Texas District Representative for the South District and spearheading efforts of the Local Arrangements Committee for 2018 AAUW Texas Convention right here in Houston, April 2018
Thank you ALL for stepping UP….looking forward to ANOTHER exciting year!

IT'S ALWAYS…time to Give a Grad a Gift of an AAUW membership, any time up to 2 years from baccalaureate or associate degree graduation.  Give the gift of AAUW membership