Upcoming Events:
Watch your newsletter, email us, or contact a branch leader here
Next regular meeting April 12, 2018 at Kelley's Restaurant in Meadows Place (Stafford), 11555 W Airport Blvd, Meadows Place, TX 77477. GOOGLE MAP LINK. 5:30 PM for dinner, 7:00 PM program.  This month join us for speaker Elizabeth Cambre of Pink Petro, a global community of energy leaders and disruptors committed to busting the diversity gap and creating a new, inclusive future for energy. All members and guests invited.  Contact Membership VP Norma Mitsakis, to arrange a carpool.  See MORE EVENTS…
Brookwood Poinsettias
At the end of last year our branch bought over 100 poinsettias from Brookwood–an educational, residential, and entrepreneurial community for adults with functional disabilities. We received this wonderful thank you note from one of the Brookwood residents: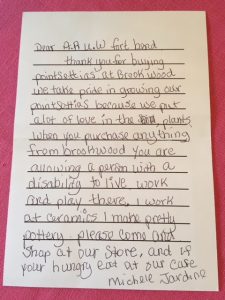 2018 State Convention is in Houston
The AAUW Texas 48th Biennial State Convention will take place April 20-22, 2018.
For more information and the registration form see the Winter 2018 Newsletter. Note that Early Bird registration ends March 23. Regular registration ends April 10.
The gender pay gap is all math, not myth.   Have you ever met a pay gap denier?  AAUW just crunched the numbers on new data from the U.S. Census Bureau and we have the facts you need to arm yourself to fight for fair pay.
Congregate with the Bookies (almost) EVERY Month, 1st Monday evening for a lively discussion more… October was My Own Words by Ruth Bader Ginsberg, especially appropriate on this topic.
---
On a HOT day, take a look at AAUW Texas' HOT blog on FACEBOOK to see what other ACTIVE women and Branches are up to….link HERE and in the right navigation
---
THANKS & Congratulations to our 2017-2018 branch officers,  installed at our Recognition Brunch May 7, 2017 at Tradicao Brazilian Steakhouse
President – Judy Cenkus
Program VP – Mona Fogt
Membership VP – Norma Mitsakis
Finance Officer – Margo Johnson
AAUW Funds VP – Angie McCauley
STEM & Legal Advocacy Fund Officer – Whitney Dewey
STEM Co-Chair & Communications Officer – Nancy Green
continuing thanks to our own Brenda Moss serving as AAUW Texas District Representative for the South District and spearheading efforts of the Local Arrangements Committee for 2018 AAUW Texas Convention right here in Houston, April 2018
Thank you ALL for stepping UP….looking forward to ANOTHER exciting year!

IT'S ALWAYS…time to Give a Grad a Gift of an AAUW membership, any time up to 2 years from baccalaureate or associate degree graduation.  Give the gift of AAUW membership
Previous Events:
 Holiday Party Benefiting Legal Advocacy Fund
The 2017 Holiday Party Silent auction raised $500 for the Legal Advocacy Fund (LAF)! Many thanks to Judy and Mark for hosting.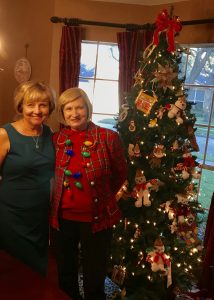 Putting a Stake in the Heart of Pay Inequity Halloween Fundraiser

November Branch Meeting: Female Leadership in Our County's Juvenile Probation Department – Susan Bearden, Special Programs Director, Fort Bend County Juvenile Probation Department gave a heartfelt, moving description of their programs and how volunteer mentors reach out to make a difference in young lives.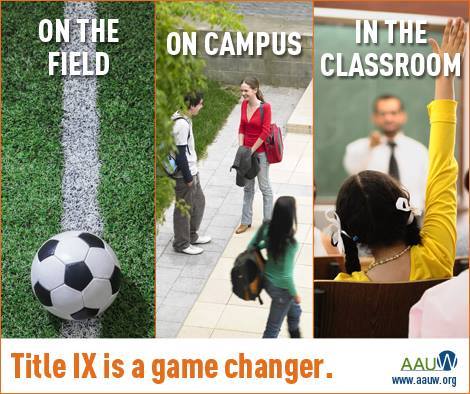 October Branch Meeting:  Title IX – Dr. Richard Anthony Baker, Assistant Vice Chancellor/ Vice President, University of Houston Main Campus…dynamite presentation on Title IX efforts to inform about, reduce, eliminate on campus sexual assault.
Shanna Bryson, the K-8 Science Instructional Coach in Lamar CISD's Department of Curriculum and Instruction. Ms. Bryson is responsible for the design and delivery of the STEAM camp held in June for middle school girls in LCISD [Science Technology Engineering Arts Math]
MANY thanks to Milly for a WONDERFUL Salad Luncheon, Saturday August 19!  We met five vibrant women interested in AAUW's mission and enjoyed a wide variety of salads, as well.
MAY Recognition Brunch – Sunday May 7, 2017 – We met our Educator of the Year, Virginia Irizarry and the 2017 recipient of the Mary Frierson scholarship to Wharton County Junior College, Edris Mitchell.  We had a GRAND TIME at Tradicao Brazilian Steakhouse  –  Many thanks to Membership VP,  Norma Mitsakis for organizing a wonderful event and to the hard-working officers of 2016-17 and the great incoming board of 2017-18 (see below and here).
My Personal Story as an American Immigrant –  Pearl Lam, AAUW member
The Power of Survival – Lilas Tiha, author, AAUW member
Refugee Experiences & Assimilation –  Roxanne Paiva,  Executive Director Our Global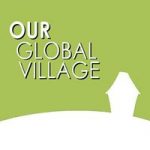 Village this was an amazing, eye-opening meeting….hope everyone got to shop at The Community Cloth, a microenterprise initiative empowering refugee women in Houston
Many THANKS to Judy (& Mark) Cenkus who are once again hosted our Annual December Holiday Celebration.  We saw friends old and new, sampled tasty hors d'oeuvres from a groaning table and in the Silent Auction bid in friendly competition for white elephants and homemade edibles, which  benefitted the Branch, our local Mary Frierson Scholarship and AAUW Funds, including the Ann Richards fellowship

Our chief Quilt angel, Gwen Crockett, was joined by a number of branch members this year, including Nora Rodriguez, volunteering at the International Quilt Show to raise funds for AAUW causes.
Pencil your calendar for Quilt Market Houston October 28-30, 2017 and INTERNATIONAL QUILT FESTIVAL/HOUSTON November 2-5, 2017 so you, too can wear a white glove and see gorgeous quilts.

Great Decisions completed Tuesday,  March 28 with Continuity & Change in American Foreign Policy and BONUS Discussion:  Civilization – the opening editorial which poses the same question just raised in the Supreme Court hearings, "Are we (our education system) doing a good job of teaching our democratic values?"  This concludes our Fort Bend Great Decisions for 2017.  For next year's discussion of 8 more timely, significant topics on world events and American foreign policy, check this page next fall for 2018 topics and to order your book–they arrive quickly.  Thanks to Bill Johnson for acting as facilitator again this year.  Many Thanks to Enid Tovy for organizing every year for the past 30.  We look forward to seeing her at some of the meetings again, and our NEW AAUW participants last year and this:  Pearl, Nora and Carla, who with Nathalie and Rita, each added a fresh perspective to the discussion.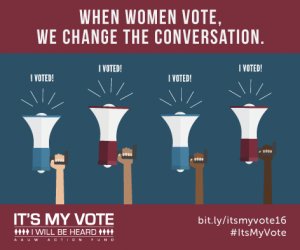 IT WAS A GREAT SUCCESS!!  West Harris AAUW EYH – 25th Milestone Expanding  Your Horizons event was February 25, 2017.  Fort Bend Branch supplied several facilitator volunteers this year and participated again in the recruitment of dynamic engineering presenters

The AAUW Texas convention in San Antonio, April 29/30-May 1, 2016 was GREAT.  Step into ACTION!  Our own Brenda Moss is now on the AAUW Texas board as District Representative, South for the biennium.

Here were Tracey's pictures in the 2014 AAUW Art contest.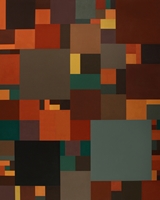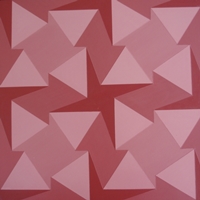 Her March program was definitely a WINNER, and we believe the contest winners learned from Tracey's style!  She is leading the art wave.

N. Harris AAUW Outstanding Women Awards Luncheon – was a GREAT event on March 4, 2017 at the lovely Shirley Acres! 

What's left this year? Programs? Books? more…
Fort Bend Branch will continue to sell AAUW business cards as a Branch fundraiser—see our order form and ad
Our Mission: AAUW advances equity for women and girls through advocacy, education, philanthropy, and research.
Our Vision: AAUW empowers all women and girls to reach their highest potential.
Our Value Promise: By joining AAUW, you belong to a community that breaks through educational and economic barriers so that all women and girls have a fair chance.
Our Diversity Statement: AAUW values and seeks a diverse membership. There shall be no barriers to full participation in this organization on the basis of gender, race, creed, age, sexual orientation, national origin, disability, or class.