Fort Bend Count Branch will continue to sell AAUW business cards, card cases and return address labels as a branch fundraiser
Download order /re-order form here
Effectively market yourself, your branch, and AAUW Texas with personalized AAUW business cards and labels. Be ready to REAP the benefits of networking with potential AAUW members.
Order a packaged set of 10 business cards (see below) as gifts for your incoming, outgoing branch president and officers.  Provide your Finance Officer and Membership VP with personalized return address labels and easy to see and use AAUW National PO box addresse labels.
---
Printed to Order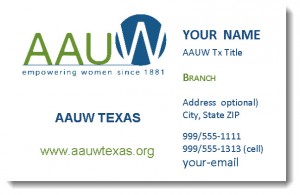 "The fun of having business cards.
Have you ever ripped a deposit slip out of your checkbook, and handed the salient bit, your name and address, to a new acquaintance?  Well, I used to do that.  Also used to say to possible members, "Just look us up on www.fortbendaauw.org/ " and because we know what that means, and where it is, it seems sufficient.
Well, it isn't.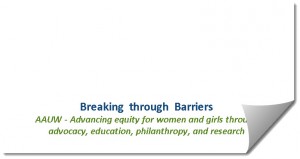 But what is professional, as well as memorable, is the Fort Bend AAUW business card. Your name and email address and phone number. Same thing as on all business cards.
Our business: AAUW.
---
"At AAUW Texas Austin Convention, we started to make inroads with members from other branches who immediately saw the value of such cards. Now we can do this for our own branch. It's now become a fundraiser for the operating costs of our branch."
Testimonial from AAUW Fort Bend Branch Member, Jane Stilley, Communications Officer