Congratulations to Penny and Don Johnson, AAUW Fort Bend Educators of the Year 2019
Congratulations to Shanna Bryson, AAUW Fort Bend Educator of the Year 2018
Congratulations to Virginia Irizarry, AAUW Fort Bend Educator of the Year 2017
Congratulations to Aerica Dial, AAUW Fort Bend Educator of the Year 2016
Congratulations to Danielle Prado, AAUW Fort Bend Educator of the Year 2015
Congratulations to Lori Blust, AAUW Fort Bend Educator of the Year 2014
Congratulations to Anne Southard, AAUW Fort Bend Educator of the Year 2013
Congratulations to Dr. Mary Jackson, AAUW Fort Bend Educator of the Year 2012, more…..
Meet the 2011 AAUW Fort Bend Educator of the Year
September 8, 2011 Meet Nick Cantu, Director of the Ridgemont Early Childhood Center at our branch meeting visit to the center. 7 PM..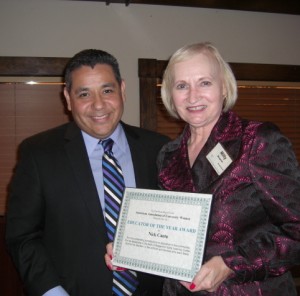 Over 10 years ago a small group of educators came together to talk about our vision of creating an early learning center in the highest poverty neighborhood in Fort Bend ISD. Our goal was to serve the many high need families living in the Ridgemont area who could benefit from a program which would create literacy pathways for young children and their families.
In order to achieve that goal we knew that it would take a team effort which included not just Fort Bend ISD but also Head Start and other partners who would join us in creating a seamless continuum of services to meet the multiple needs of these families.
Our dream was not realized swiftly or easily. Over the years we faced many highs and lows as we sought full funding for our center. However we were a determined group who never lost our focus or determination. And in 2009 our dream was realized and the building construction began. With that backdrop in mind, you can well imagine that it was very important to us that the smooth, successful opening of this very important center was not left to chance. And that meant that we had to have just the right person to lead the effort. What was called for was a person who had, most importantly, a heart for these families of poverty – someone who could wrap their arms around the concept of this center and lift it to the success we envisioned. Secondly, we needed someone who had the organizational and operational skills to open a center which housed numerous agencies working together, despite disparate rules and regulations. And thirdly, we needed someone who had the interpersonal and leadership skills to build a team of collaborators.
Nick Cantu met all those qualifications and more. From the moment we began talking with him about this position, Nick's face lit up, his heart grew large and he began mentally making plans to make this center the very best it could be! Once selected, he hit the ground running and did everything you would want for a leader to do, and amazingly without any road map!
Our center is a unique one-of –a kind! The center serves primarily children birth through 5 and adult learners in need of adult education. In addition to Early Head Start, Head Start, and Even Start we have an Extended Day Program, a Rice University teacher mentoring program, the volunteer services of the Literacy Council of Fort Bend County, and we have been adopted by the Beta Eta Sorority. Nick has built a strong team that has come together with a focus on serving our families. He has cut through red tape and erased boundary lines with his welcoming, positive attitude and goal-oriented demeanor.
When folks visit our center, they always comment on what a wonderful guy Nick is. He makes everyone feel valued and welcome! His pride in the center is huge and his enthusiasm is compelling. Perhaps my best description is this. One day Nick and I were behind closed doors, having a meeting when the door opened wide and in walked a very young learner who went straight for Nick, arms outstretched. As he said "hi" to Mr. Nick he gave him a big hug, then turned around and walked out the door. What an impact Mr. Nick is making – not just with this one learner but with all our learners in the center! We chose well indeed!
Nomination of Nick Cantu
For AAUW 2011 Educator of the Year
By Dr. Mary Jackson
Previously Recognized Educators 2011 to date
(see below for earlier)
| | | |
| --- | --- | --- |
| 2017 | Virginia Irizarry | Teacher, Barrington Place Elementary, Math & Science |
| 2016 | Aerica Dial | Teacher, Townewest Elementary, 5th Grade |
| 2015 | Danielle Prado | Teacher, Fort Bend ISD |
| 2014 | Lori Blust | Financial Advisor, Wharton County Junior College, Sugar Land Campus |
| 2013 | Anne Southard | Psychology Teacher, Kempner HS, FBISD |
| 2012 | Dr. Mary Jackson | Director of Special Programs, FBISD |
| 2011 | Nick Cantu | Director of the Ridgemont Early Childhood Center |
Previously Recognized Educators – 1990's – 2010
| | | |
| --- | --- | --- |
| 2010 |  no award | |
| 2009 | Sam Needham | Literacy Volunteer of the Year |
| 2008 | Lea DeBarbieris | Teacher, Administrator Health Science Technology Program, Austin High School |
| 2007 | Victoria Wernau |  Chemistry Teacher, Travis HS, FBISD |
| 2006 | Michael Medley | music teacher at Fort Bend Baptist Academy |
| 2005 | Mary Westlake | French Teacher, At Risk Sponsor Austin High School |
| 2004 |  no award | |
| 2003 | Lucia Street | Executive Director, Fort Bend LIteracy Council |
| 2002 | Marva Rasberry | Pincipal, Stafford HS |
| 2001 | Nancy Stephenson | Calculus Teacher, Clements HS |
| 2000 | Nancy Caston | Band Director, Sugar Land MS |
| 1998 | Corlette Anderson Hill & Mary Bley | Science Department Chairs- Missouri City MS, Macario Garcia/Sartartia MS |
| 1997 | Marcy McConnell | Science Department Chair, First Colony MS |
| 1996 | Idell Vogel | History Teacher, NHS Sponsor Willowridge/ Hightower HS |
| 1995 | Mary Ann Reynolds | Acting Superintendent, FBISD |
| 1994 | Margaret Sloan | Librarian, Willowridge HS |
| 1993 | Rebecca Benedict | Counselor, Stafford HS, NOW High School Principal in Stafford Texas.  P.hD.,  "Principal of the Year" for two years, Brought TAKS scores up 69% in five years |
| 1992 | Barbara Fernelius | English Teacher, Dulles/ Elkins HS |
| 1991 | Debbie Dunlap | Assistant Principal, Dulles HS, Principal Hightower HS |