Great Decisions will be re-starting our regular meetings in late January 2019.  We also have a FACEBOOK group to share relevant articles for discussion.  Special thanks to our hostesses at The Overture, who graciously made space for us each week.  Stop by and visit to thank them.
Great Decisions – gives you a voice in world affairs.  Our Fort Bend 2019 series starts in late January  See below the  new 2019 topics
or go buy it in January at Brazos Bookstore in Houston http://www.brazosbookstore.com/
Join the Foreign Policy Process
Local Great Decisions groups meet to share ideas and opinions.  All program participants are invited to register their views on the Great Decisions opinion ballot, which is presented to U.S. leaders and major media.  Ballots are still available at the 2017 links below.
2019 Topics:  (see article authors and briefs)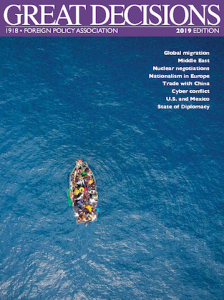 Refugees and Global Migration
The Middle East: Regional Disorder
Nuclear negotiations: Back to the Future?
The Rise of Populism in Europe
Decoding U.S.-China Trade
Cyber Conflicts and Geopolitics
The United States and Mexico: Partnership Tested
State of the State Department and Diplomacy
See you in January 2019!
Many thanks to Enid Tovy who organized this interesting group for 30+ years, now facilitated by Bill Johnson.  No expertise, only interest (and preparation), is required.  For more information contact:  Bill Johnson.
Early each spring, AAUW offers Great Decisions to:
Explore the Issues


The Great Decisions program highlights each of today's most significant, far-reaching foreign policy issues. In compelling presentations, Great Decisions provides facts and nonpartisan analysis of the "great decisions" facing the U.S. public and policymakers.
Learn about Foreign Policy


The Great Decisions program is a unique learning experience. You will acquire skills to assess global developments and policymakers' decisions. You will help build the American democracy's strong citizen base.
2018 Topics:  (see article authors and briefs)

2017 Topics:
Continuity & Change in American Foreign Policy and BONUS Discussion:  Civilization (the opening editorial letter)
Great Decisions 2016 topics:
Middle East
The Rise of ISIS
The Future of Kurdistan
Migration
The Koreas
The United Nations
Climate Change
Cuba and the U.S.
Great Decisions 2015 topics:
Great Decisions 2014 topics: